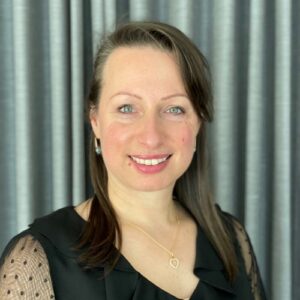 Dr Penelope Polioudakis
Clinical Psychologist
Dr Penelope Polioudakis is a clinical psychologist at GLOW Clinic Berwick Melbourne, skilled in working with children providing counselling and conducting specialist assessments for possible autism spectrum disorder, and learning difficulties.
Penelope holds a Doctor in Psychology (Clinical). Since graduating in 2007, Penelope has gained her experience working across a range of public mental health services, including a statewide child inpatient service, working with all age groups from infancy to adulthood. In addition to her role at GLOW, Penelope also works in a public hospital supporting women and families during the perinatal period. Penelope recently completed training in the parent-child relationship based early intervention program known as Circle of Security-Parenting (COS-P).
Since commencing at the GLOW Clinic in 2017, Penelope has been and continues to formally assess children suspected of having an Autism Spectrum Disorder (ASD), Intellectual Disability (ID), or Specific Learning Disorder (SLD) such as dyslexia, dysgraphia, or dyscalculia. Children may require a referral from their Paediatrician to conduct these assessments. Further details about Penelope's Autism Spectrum Disorder assessments can be found here, and details about her cognitive/educational assessments can be found here.
In addition to her formal assessments, Penelope supports pre-school and primary school aged children who present with a variety of difficulties, including emotional, social, behavioural, and academic issues that may be impacting on family relationships and/or school learning and peer relationships.
Penelope strongly believes in thinking systemically by working closely with parents/caregivers and schools when best supporting children and young people to thrive and reach their full potential. Penelope works from the premise that all behaviour has meaning and following a thorough assessment and thoughtful reflection in the therapeutic work, solutions generally emerge through this process. The best intervention for each child and family will emerge from the assessment and may involve working with the young person alone, working with parents alone, or a combination of both.
Penelope values the uniqueness of each individual and their family, and she respects and values working with people from diverse backgrounds, cultural, gender, ethnic, sexual, and religious groups.
Outside of work, Penelope is a busy mum of two children and one fur baby. She appreciates the challenges that children bring to the family unit. She enjoys spending time with her family, gardening, and cooking her homegrown produce.
Qualifications and Training:
-Bachelor of Arts – Deakin University, 2000
-Postgraduate Diploma in Psychology – Australian Catholic University, 2003
-Doctor of Psychology (Clinical) – Australian Catholic University, 2007
Registration and Professional Memberships:
-Registered and Endorsed Clinical Psychologist with AHPRA
-Registered Supervisor with AHPRA
-Member of Australian Psychological Society (APS)
-Member of APS Clinical College
-Member of APS Perinatal and Infant Psychology Interest Group
-Member of APS Intellectual Disability and Autism Interest Group