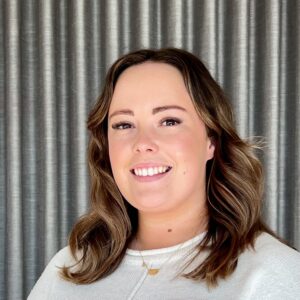 Montana Muir
Practice Manager
Montana joined Glow in June 2023 with a wide range of experience and knowledge from various industries culminating in appointment as Practice Manager.  Montana has previously worked as a qualified Myotherapist and in the player welfare space at an AFL club for six years. After discovering her passion for health and wellness, specifically women's health, Montana decided to pursue a career in midwifery. Montana is passionate about empowering women and enabling them to make informed choices about their health and their families' health. She believes that every woman should have the tools and resources they need to lead happy and healthy lives.
During her work at one of Victoria's largest hospitals, Montana recognised the importance of continuity of care for women and their families throughout all stages of the perinatal periods. She saw the gaps in women's health and recognised the vital role that a clinic like GLOW plays in filling this void, by providing a range wide of services that are family focused and collaborative; prioritising and improving perinatal wellness.
"As a registered midwife I saw firsthand how important optimising the health and wellbeing of women, their babies and families is. When  I  saw  that Glow was hiring a practice manager I could not pass up the opportunity to apply. I love that Glow targets such a niche area, and fills that gap in perinatal health. Glow is a combined service for all things perinatal and I look forward to contributing towards the clinics growth".
"Outside of work I enjoy playing tennis, staying active and trying out the great selection of restaurants Melbourne has to offer"
GLOW warmly welcomes Montana to our team (family) and looks forward to sharing her exuberant personality and demonstrated commitment to ongoing learning with our wider Glow community.